With this app, you have the ability to check for specific fears or feelings within you, such as hate, grief, shame, etc. And to test your cognitions/beliefs. Even if these are suppressed (unconsciously), the test works.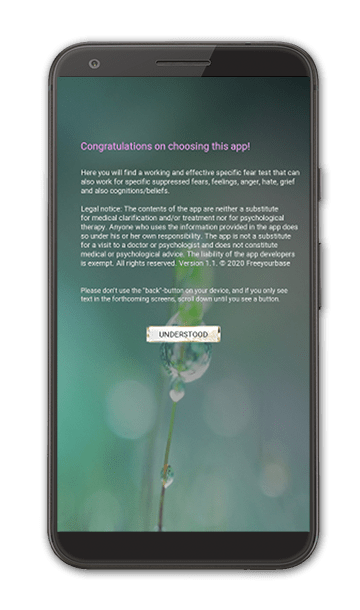 – Quick and effective
– Easy
– With speechoutput
– No advertising
– No data collection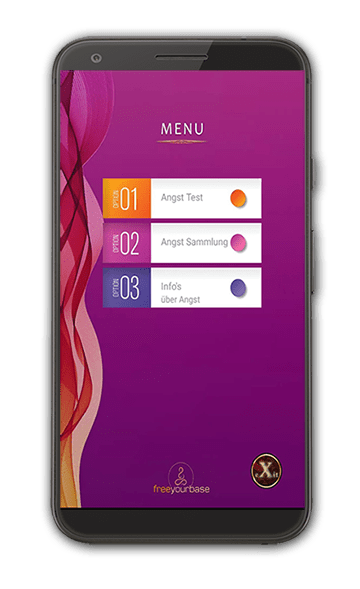 We offer the app for free. 
For all mobiles with
Apple™ iOS andGoogle™ Android.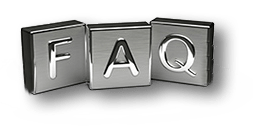 Question: What does the app do?
The app tests for specific fears (e.g. fear of dying, fear of betrayal, fear of rejection, fear of being alone) and cognitions/sets of beliefs/schemes/convictions (e.g. "I am nothing", "I can't do anything"). Even if these are suppressed (unconsciously), the test works. This is because addressing them directly always results in an unavoidable reaction. Furthermore, it is also possible to test for (suppressed) specific anger, sadness, shame, hate and all other emotions. 
Question: Why should I test myself? I know my fears!
Since the bigger fears are almost always suppressed, they are unconsciously excluded from our world of experience. This means that we do not know which ones are within us, unless a fear becomes too strong in its effects, for example through blockages. 
Listen to the app in a relaxed way.
The test is designed in such a way that you simply lie down comfortably and listen to the pleasant voice of the app that guides you through the test. 
"If you don't overcome your fear daily, you haven't learned life's lesson."
Paul Gauguin (1848-1903),  french painter